Farley Music Hall Equipment and Furnishing List
Farley Music Hall is located at 37 Mill Street in Elsah. The main room on the first floor is the Hosmer Williams Hall. It was named in honor of Historic Elsah Foundation's first president, Charles B. Hosmer, Jr. and our first newsletter editor, Paul O. Williams. The Hall is 42 feet by 26 feet. It is handicapped accessible through the front door. The bathroom is also accessible.
The Hall has a capacity of 100 people if guests are only standing and no tables are used. The capacity is reduced to 62 people when tables are used. The second floor is not available to rent.
Tables
Tables are suitable for eating and medium weight serving; the plastic top tables are not suitable for hot serving dishes without thick insulation protection
Tables (32" X 65"), lightweight with plastic top – eleven (11)
Two smaller tables (30" X 48"), lightweight with plastic top – (2)
Table, round wood with metal legs, 36" diameter – one (1)
Table, square wood table with wood legs, 36" square – one (1)
Seating – wood painted
Wood chairs some with cushions – forty-two (42)
Benches, rustic, seven foot long – six (6)
Kitchen equipment in catering kitchen, not for food preparation
One bowl stainless, kitchen sink with counter
Small residential refrigerator
Small residential stove
Domestic style microwave
Domestic style coffee maker – two (2)
Insulated ice cooler on wheels with drain
Stainless top, 36" high, rectangular table
Use of the outdoor lawn area requires permission of the adjoining landowner. Additional information can be obtained upon request.
Daily Rental Fee
If an HEF member, there is a discount.
If not an HEF member, then $200 per day and $100 damage deposit to be refunded if the hall is left in good condition.
Catering Fee
If a catering firm is providing service, there is a 10% fee on the bill.
Caterer must provide proof of insurance prior to the event.
Contacts
Email [email protected] for details and to view the building.
The key will be provided the day of rental. The reservation is made on payment of the rental fee.
You may fill out and send the contract by postal mail to:
Elsah Historic Foundation
PO Box 117, Elsah, IL 62028
618.374.1059
Photos of Farley Music Hall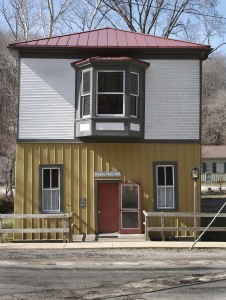 Front Entrance (photo: David Kreutz)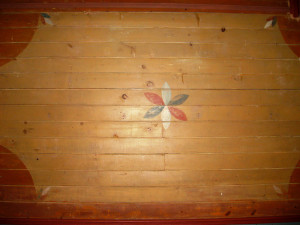 Decorative Sign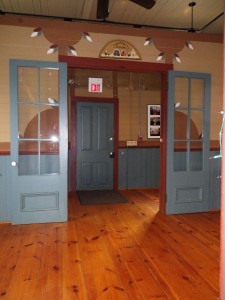 Interior Entrance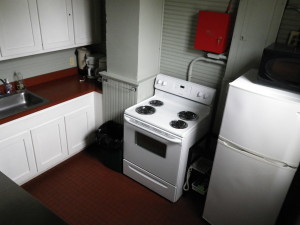 Kitchen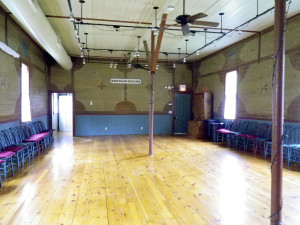 Hosmer-Williams Hall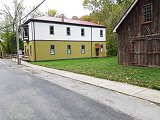 North View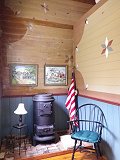 Foyer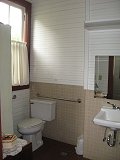 Bathroom