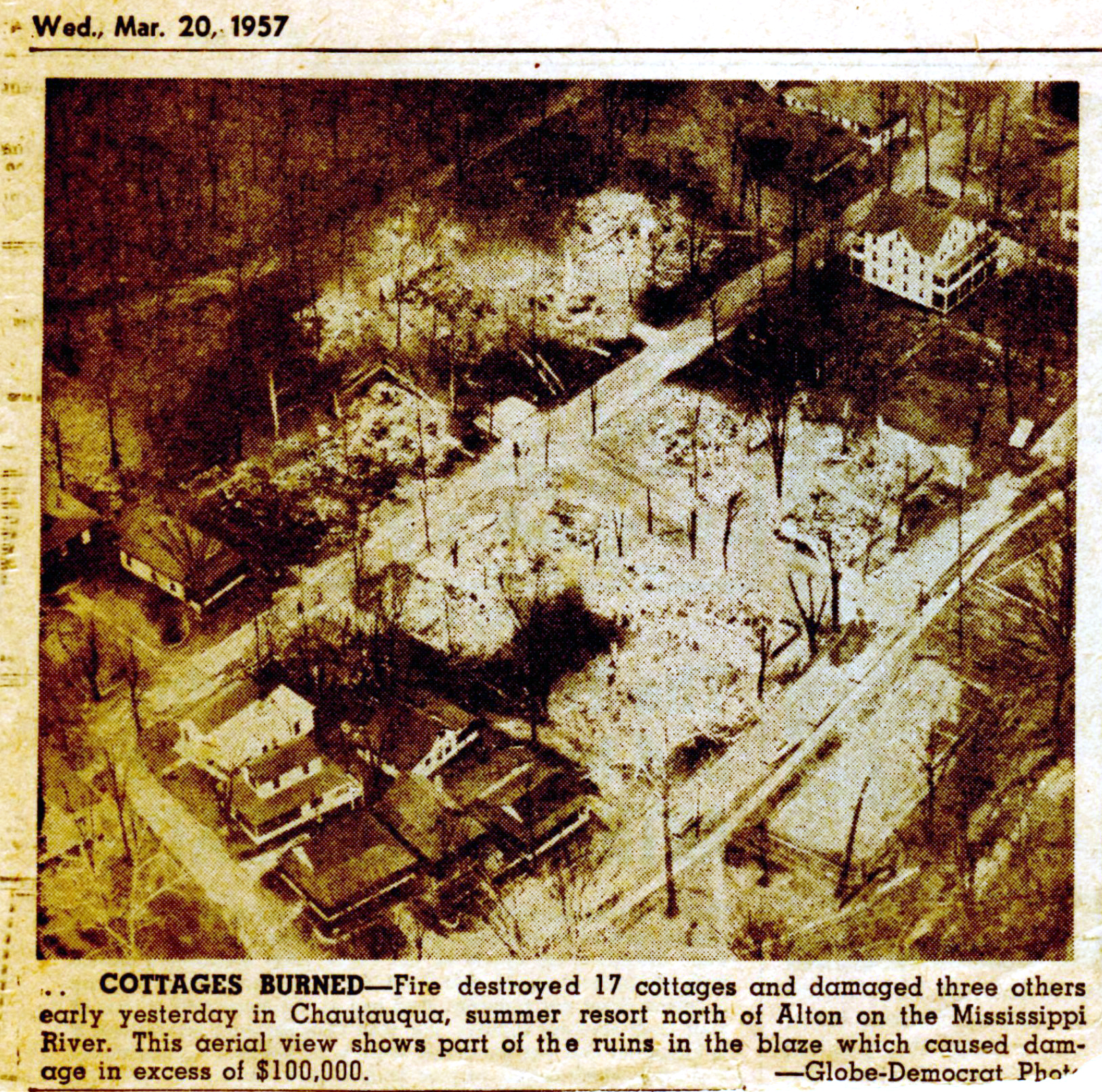 Long time New Piasa Chautauqua resident and environmentalist Betsy Dugan will speak on, "The Great Chautauqua Fire," at Farley's Music Hall, Elsah, Illinois, on May 25, 2017 at 7:30 p.m. The lecture is part of the Hosmer-Williams Lecture Series for 2017, sponsored by Historic Elsah Foundation and underwritten by Liberty Bank, Godfrey, Illinois. The theme for this year's series is, "local, local, local." Refreshments will be served following the lecture.
The Chautauqua community on the Great River Road is one of ten remaining historic Chautauqua communities in the country and the last of such communities in Illinois. Founded in 1885 as the "Western Chautauqua," the community will celebrate its 132nd year in 2017. Buffeted by floods and other natural disasters over the years, the "Great Fire" of March 19, 1957 severely tested the community's resolve and resiliency. It destroyed 17 family cottages. Although several area fire departments, including Principia College volunteers, helped fight the fire. many had little or no knowledge of the community. The Alton Fire Department didn't even know the way to Chautauqua. Local news reports described the fire in hyperbolic terms, stating the flames burned tree branches fifty feet above the ground, and that the reflection from the fire was visible in the pre-dawn sky from a distance of 13 miles.
Betsy Dugan will describe the Great Fire in words and pictures. Dugan is a long-time resident of the Chautauqua community, and has served in a leadership capacity on various Chautauqua community boards. A teenager in 1957 when the fire broke out, she visited the scene almost immediately after the fire with her father. Her family cottage was one of the 17 lost in the fire. Dugan's family responded to the fire in the same manner as most of the families who had lost cottages in the fire, by rebuilding. Her talk will feature photos of the fire and its aftermath as well as images of the 1950's setting of Chautauqua and surrounding riverscape.
The lecture is free and open to the public. Reservations are not required. Parking is available.
Attention media, print and otherwise, for additional information, contact Tim Tomlinson, Historic Elsah Foundation, 618.374.1518.