This talk which will be given by Joe Ringhausen, local orchard owner in Jersey County on October 20 at 7:30 p.m. at Farley Music Hall, 37 Mill Street, Elsah. A question-and-answer session follows the talk.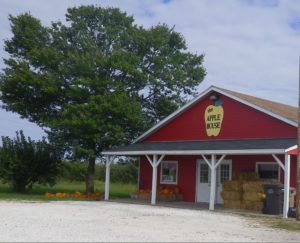 The Jerseyville orchards were purchased by the Ringhausen family in 1929. The orchard's signature, award-winning, sweet cider is blended from equal amounts of tart apples, such as Jonathans, and sweet apples, like Fujis. The sweet cider is a mainstay at the Apple House from September until Christmas time, routinely selling out by the first of the year.
During the peak cider season, the orchard makes between 500 and 700 gallons per week, which they also sell to other stores, growers, and markets.
What is your favoite apple? How does it grow? What about heritage apples? Learn from Joe Ringhausen.
Free refreshments are available after the talk. With the theme of "apples," refreshments will feature apples and things that go well with apples – unbeatable combinations. All are welcome to attend.
Sponsored by Liberty Bank of Godfrey, Illinois, this free lecture is part of the Hosmer Williams series given by the Historic Elsah Foundation. This year's theme is "nature."
For more information, contact Jane Pfeifer, 618.374.1565 or [email protected].